XRAY Micro Car Series M18 / M18Pro / M18T / M18MT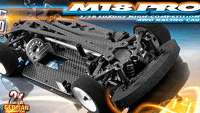 The XRAY M18 Micro is a unique 1/18th micro-sized model racing car that is the epitome of high-performance and fine distinctive design.
M18 offers highest performance, responsive handling, and traditionally exceptional XRAY quality, engineering, and design.
The XRAY M18 enters a new frontier in micro-car design by offering fully-adjustable suspension, responsive shaft-drive drivetrain, and ultra-smooth gear differentials. The superb craftsmanship and attention to detail are clearly evident everywhere on the XRAY M18.